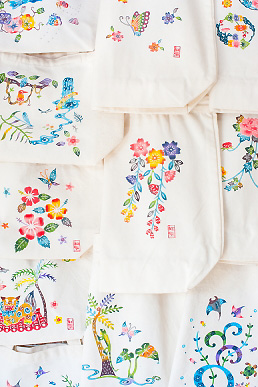 Normal menu(painting on our item)

Experience cost
This will be the total of the painting fee and the item cost(1+2).
1,500 yen -3,000 yen for painting one pattern.
1.Painting cost
2.Item cost
S-size design:1,500 yen
M-size design:2,000 yen
L-size design:2,500 yen
LL-size design:3,000 yen

500 yen will be deducted from the above for the second and subsequent patterns.
Canvas bag(small and large) 300 yen
Shoulder bag (small and large)300 yen
Pouch 200 yen
Flower vase mat 200 yen
Coaster 0 yen
Fabric for frame 0yen
Stole 500 yen
The campaign will be free of charge for all items except stoles until March 31, 2023.
* It takes about 1-2 hours to finish,
*

Class times.




10:00~

,13:00~

,15:00~


*

Up to6 people at a time

( Because our shop is so small. )

*Painting design chart is here.